WHY TRAIN IN LASH PERFECT RUSSIAN VOLUME LASHES
The Lash Perfect Academy professional qualification in volume lash extensions provides the opportunity to advance your career as a full-time lash technician, whether in salon or mobile, or to boost your existing income by offering treatments on a part-time or 'side-hustle' basis. Adding popular lash extensions to existing salon/treatment menus makes perfect sense as it compliments other beauty services such as brow, nail and hair treatments – why not offer your clients all the beauty treatments they want?
The demand for beauty treatments is high – the amount spent at hairdressers and personal care salons in the UK in 2019 was £8.6 billion, equivalent to every person in the UK spending £166 on personal care treatments yearly. Maximise your earnings by offering all the treatments your clients want in one place.
Lash extensions are incredibly lucrative, with Russian Volume being the most request amongst clients in the UK. Most Lash Perfect volume lash techs offer 2 - 3 treatments per working day and end the week with earnings of £750+.
The average price for a full set of Russian lashes is £75. These figures are an estimation of full sets and do not include income from returning clients for maintenance/infill appointments.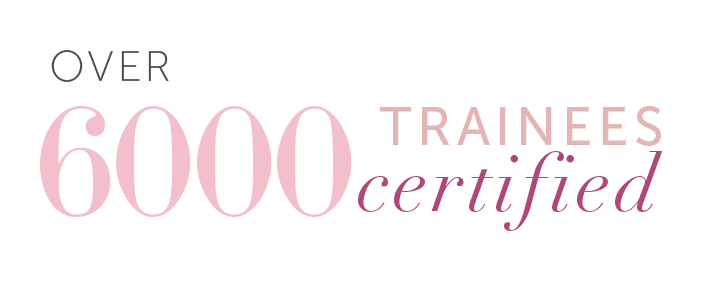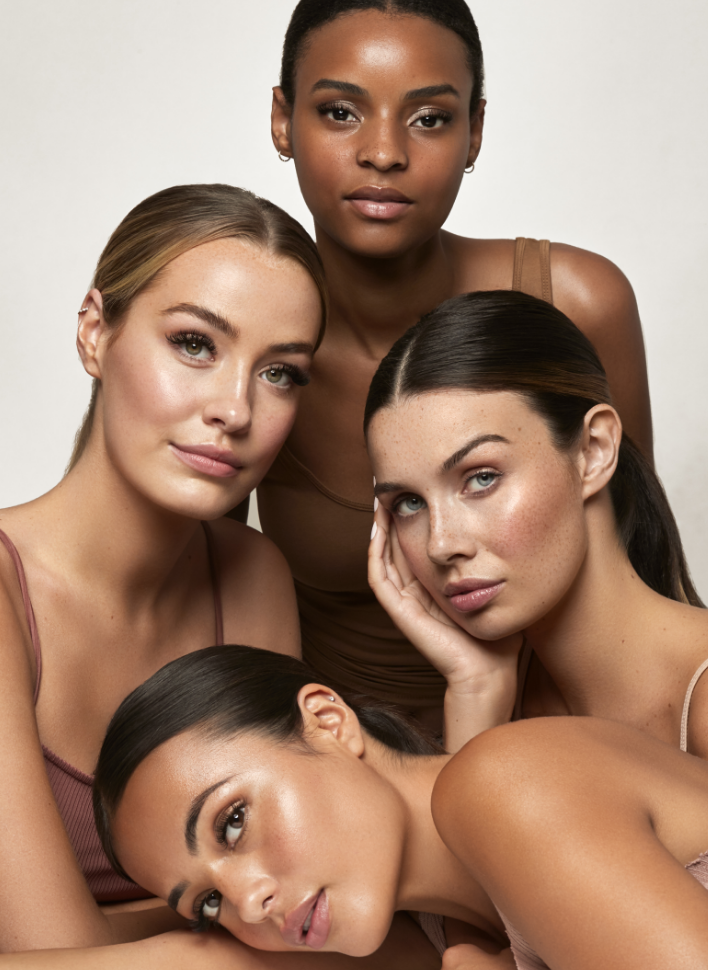 WHAT ARE RUSSIAN VOLUME LASH EXTENSIONS?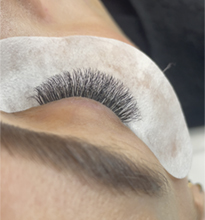 The Russian volume lash treatment involves the application of multiple ultra-fine eyelash extensions directly on top of a single natural lash, creating length and volume. Typically, results last up to 2-3 weeks – infill appointments are then required to maintain the look, which encourages repeat business and client loyalty.
Lash extensions have been around for over 100 years, but they have never been as popular as now. With advanced techniques and technology, it's easier, safer and more lucrative than ever to offer the treatment to clients.
Though they have been around for over a century, lash extensions as we know them only came to the UK in the early 2000s – and Lash Perfect was the first to offer safe, professional products and training for them. In 2006, Lash Perfect was launched and began offering individual lash extension training and products. Russian lashes fast became the go-to lash extension treatment in the 2010s, and as a company, we researched the international beauty market to launch the innovative treatment with the best products and techniques, putting our unique spin on it. Lash Perfect Russian Volume was launched in 2014 and has become one of our most popular training courses. Find out more about our history on our blog.
Join our accredited training course to learn the skills and knowledge you need to offer and earn from the popular individual eyelash extension treatment.
Choose from flexible online or intensive 1-day classroom (face-to-face) training to advance your skillset.
TRAINING IN RUSSIAN VOLUME LASHES
ACCREDITATIONS AND LASH EXTENSION INSURANCE
All Lash Perfect Academy courses are accredited by ABT allowing you to receive a 10% discount off your insurance policy with ABT Insurance.
Our courses are also endorsed by HABIA.
CPD points/hours: 8 hours


KEY COURSE INFORMATION
Classroom and Online Training options are available.
WHAT IS TAUGHT ON THE COURSE?
Lash types, curls, thicknesses & lengths
Lash fanning techniques
Russian volume application techniques
Lash extension consultation
Product knowledge
Aftercare advice
Lash extension removal procedure
Contraindications
Health, safety & hygiene
Legal responsibilities
Professional ethics
Anatomy & physiology for the eye/brow area
PREREQUISITES:
Ideal for those trained in Lash Perfect Classic Individual Eyelash Extensions (or equivalent)
Prior knowledge of lash application and natural lash isolation is required for this course.
After training with our Russian lash course, Lash Perfect Hybrid Eyelash Extension and Lash Perfect Lash Lift training courses are your next steps to enhance your career and earn even more!
ONLINE TRAINING



TRAINING OPTION 1

Learn:
At your own pace
From wherever you like
With just a laptop or tablet
With an online assessment
With help only a call or email away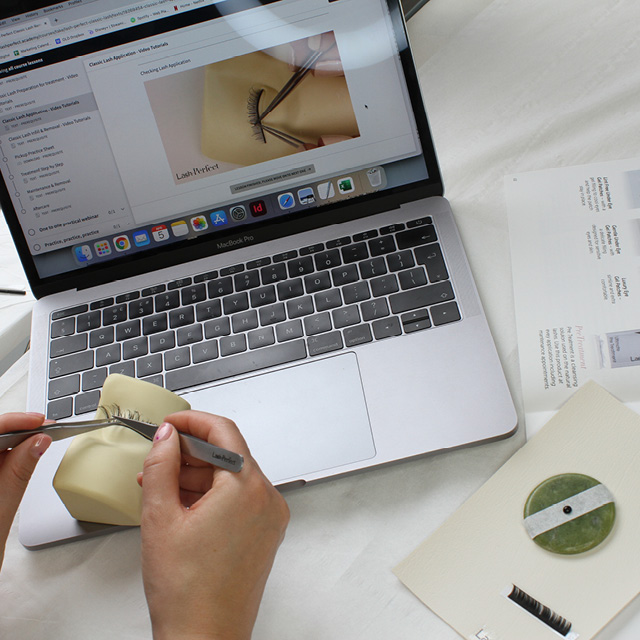 COURSE REQUIREMENTS
All Lash Perfect Academy online courses include – this has everything you need for your assessment including lash extensions and lash glue. You will need a model to perform your assessment on.
HOW DOES IT WORK
After you purchase your training, you will receive an email from us with details on how to access Lash Perfect Academy – our online training platform.
Your chosen kit will be sent to you.
You will work through online lessons, watch Russian lash tutorial videos and complete quizzes while you learn all about the treatment and how to safely offer professional services.
Then, practice, practice, practice your new skills and techniques – it is best to use a mannequin eye/head (included in the kit) or the Lizzy Head!
Once you are feeling confident, you can book your live assessment with an expert trainer at a time that suits you – this is completed online via video call. The trainer will offer you feedback and guidance to help you along the way.
Get certified! If your trainer is happy with your work, you will be able to proceed online to gain your certification.
Case Studies:In order to book your live practical assessment, we ask that you practice on your practice lashes and send through two pictures to us. Instructions on this are on our learning platform. After assessment, no case studies are required if your trainer is happy with your work. Should case studies be required, you will be asked to complete a few sets of lash extensions, photographing them so our trainer can offer any advice and award certification.
HOW TO BOOK
There are two kit options for this online course: Essentials Kit or Professional Kit – choose the kit that suits you!
Both kits have all you need to complete your online assessment and gain professional certification. The Professional Kit includes more products which will also allow you to start offering treatments after completing your training and becoming a certified lash tech.
Lash Perfect Russian Volume Eyelash Extensions Online Course with Essentials Kit: £199+VAT
Lash Perfect Russian Volume Eyelash Extensions Online Course with Professional Kit: £250+VAT
CLASSROOM TRAINING WITH PROFESSIONAL KIT



TRAINING OPTION 2

Learn:
At a training venue in the UK
With a trainer in-person to guide you
With a practical assessment on the day
With help available every step of the way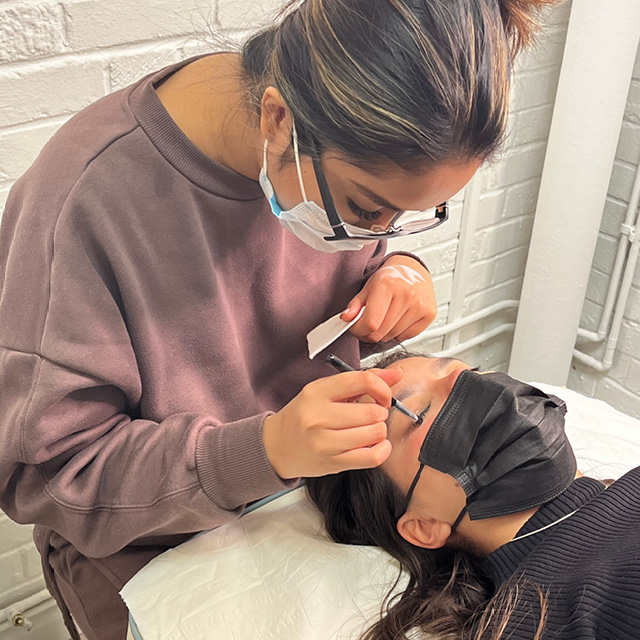 COURSE REQUIREMENTS
The Russian volume lash extensions classroom course includes a Professional Kit which, after purchase, will be shipped to your selected venue ready for you to pick up on your training date. This kit has all you need to start your professional treatments after you become a certified lash extension technician. You will need a model to perform your practical assessment on during your training day – please get in touch with us should you need any help with this.
HOW DOES IT WORK
Classroom training in Lash Perfect Russian Volume is a 1-day, in-person course carried out at one of our UK venues.
The Lash Perfect course runs from 10am – 4pm.
Our courses have up to 4 trainees - our expert trainers ensure all trainees have the help and support they need.
Prior to the course, you will be given access to Lash Perfect Academy - our online training platform. Here, you will be guided by videos and online lessons through our essential knowledge – including information on health & safety, hygiene, contraindications and more.
On the day of the course, you will work with your expert trainer on the practical elements of learning the volume lash extension treatment, including practicing on your model.
Get certified! Your trainer will assess your technique and advise if any case studies need to be completed before certification is awarded.
Case Studies: No case studies are required if your trainer is happy with your work during your assessment. Should case studies be required, you will be asked to complete a few sets of lash extensions, photographing them so our trainers can offer any advice and award certification.
HOW TO BOOK
With Classroom Training, you can choose the venue and date that best suits you.
The Lash Perfect Russian Volume Course comes with a Professional Kit – this kit is perfect for those who are just beginning with Russian volume lashes as it has a full range of products needed to complete training and begin offering treatments to paying clients whether in salon or as a mobile treatment.
Lash Perfect Russian Volume Eyelash Extensions Classroom Course with Professional Kit: £299+VAT
Very easy and quick to book. Comfortable setting and loved that multiple techniques were taught and practiced instead of just figuring out in time what's best for me.
Cerys Miller

This is the second course I have done with Lash Perfect and again it was a positive experience that I could do it at my own pace around my schedule. The trainers were helpful and the information in the handbook and online was great. The customer service team have also been very helpful and efficient with any issues or queries that I've had. My accessor was very patient, clear and gave me some tips! I would definitely do another course with Lash Perfect and recommend them to others.
Samantha Anderson

Training was in depth, and I gained so much knowledge than with my previous course I went on with a different company. All trainers were friendly and put you at ease.
Tanisha Morgan
HOW TO PAY

You can pay online or over the phone using any debit or credit card or take advantage of our 0% finance options!
BUY NOW PAY LATER
How it works
1. Add your training and kit to the basket/cart.

2. Select ClearPay at checkout.

3. Log into or create your Clearpay account, instant approval decision

4. Your purchase will be split into 4 payments payable every 2 weeks
0% INTEREST FINANCE
Pay 10% now, the rest in installments over 6, 9, or 10 months with 0% interest*

1. Choose your training and kit.

2. Contact our training team to receive an application form.

3. Get approved by our partner, Omniport Capital.

4. Pay just 10% of your overall training order upfront.

5. Pay the rest in instalments over 6, 9, or 10 months.
*Available on orders over £300.
KIT OPTIONS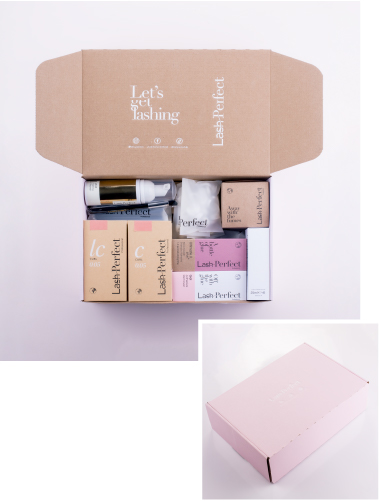 All Lash Perfect Academy training courses are supported with product kits. We have two individual lash extension kit options to choose from – find your kit match:
Essentials Kit: £199+VAT (with Online Training Only)
Everything you need to complete your online training assessment including lash extensions, glue, tools and disposables.
Individual Eyelash Extension Online Course with an Essentials Kit for £199+VAT
Professional Kit: from £250+VAT
You can upgrade to the bigger, better value for money Professional Kit which will fully set you up for offering this popular treatment. Includes products for training, assessment, practice and initial client treatments. Best match for mobile therapists and salon techs.<
Individual Eyelash Extension Online Course with a Professional Kit for £250+VAT
Individual Eyelash Extension Classroom Course with a Professional Kit for £299+VAT
Are you a large salon looking to train multiple staff members from one kit?
Do you need a bigger kit to start your business?
Get in touch with our team to find out more about our training and kit options.